8/8/2019 10:55 am

Harley Quinn's popularity has grown by leaps and bounds since the character was first introduced. Having Margot Robbie play the character in live action for DC Entertainment Universe's Suicide Squad seems only to have elevated the character to mainstream popularity! Add to that Kaley Cuoco's version and Harley Quinn might as well be a household name. However, the only character that might disagree with this statement has eighty years of history to back him up. We are, of course, speaking about Batman! Earlier this week, DC Universe spoke with Diedrich Bader on his return to voicing Batman and what working on Harley's show is like:
DCU: It's amazing that in 'Harley Quinn' you're playing a character you once played in a show for all ages. Yet your performance still works in a show very much aimed at adults.

Bader: At big kids! [Laughs.] Yeah, just everything about it is different, and that's what's cool about it. It's kind of a reimagining of the whole world. I think it's a really good opportunity for comedy. What are these people's lives really like? Wait until you see. The stuff with me and Christopher Meloni [who voices Commissioner Gordon]...
DCU: Did you guys improv your dialogue?

Bader: Yeah, we were brought in together a lot, which was really fun. The sessions are incredibly fun. For the pilot, I even worked with Alan Tudyk, who plays the Joker. That was mostly what we recorded together. But for the rest of them, it was mostly me and Chris. He's really great. He's a great improviser, and he's really fun to work with. I think we went into some really interesting areas. Yeah, the idea [behind this show] is sort of about blowing up the DC Universe in a weird way.
DCU 'Harley Quinn' really features a murderers' row of voice talent. How's it achieved this pedigree?

Bader It's the opportunity to play these characters, and then on top of that, they schedule around you. When I was recording in the fall, I had 'American Housewife,' 'Veep,' and 'Better Things' all shooting at the same time. And then, to do this as well, the schedule was tight, but they made it work. As they do for Alan, who's a genuine movie star, and really super busy. It gets complicated, but that's the beauty of animation, that you can squeeze it in. I could go during lunch, for example. Seriously. I went during lunch, recorded, and went back to 'Housewife.' So one of the glories of animation is that you can do it during the time that you'd normally be taking a nap. [Laughs.]
DCU: What can you say about the direction the relationship between Batman and Harley takes throughout the first season of 'Harley Quinn'?

Bader: They do have an arc that I'm not supposed to get too into. Suffice it to say that Batman feels she's capable of redemption, and sees her making the same mistakes over and over again. She has a girlfriend, but if she has a psychiatrist, it's Batman. That's pretty much all I can tease.
For more on Bader's Batman on Harley Quinn visit the DC Universe. Let us know what you think in the comments below and in the forum!
7/29/2019 11:04 am

Just after San Diego Comic Con, an additional media event happens. This is called the Television Critics Association conference. There are two events a year and both showcase new shows, new opportunities for companies to invest and important background information from shows in development. This year, Blackgirlnerds.com were able to cover the event when Kaley Cuoco and cast/showrunners were on stage. Kaley might be best known for her role on the Emmy-Award-Winning CBS show, The Big Bang Theory. Looking for her next step after that show wrapped, Kaley took the Harley role before her live action show even ended. She said:
I was still shooting Big Bang when Peter called so I was actually doing [Harley Quinn] while shooting [the TV show]. So this was just a great addition. It felt like the right move, and it's just been a blast. You know, Harley Quinn is such an iconic character. The way this team brought this specific show together, it was so bright and different and obviously extremely edgy and nothing I'd ever really done before. It's just a whole new take on it, and the cast is fantastic. I knew it would be a blast, and it has absolutely held up to that.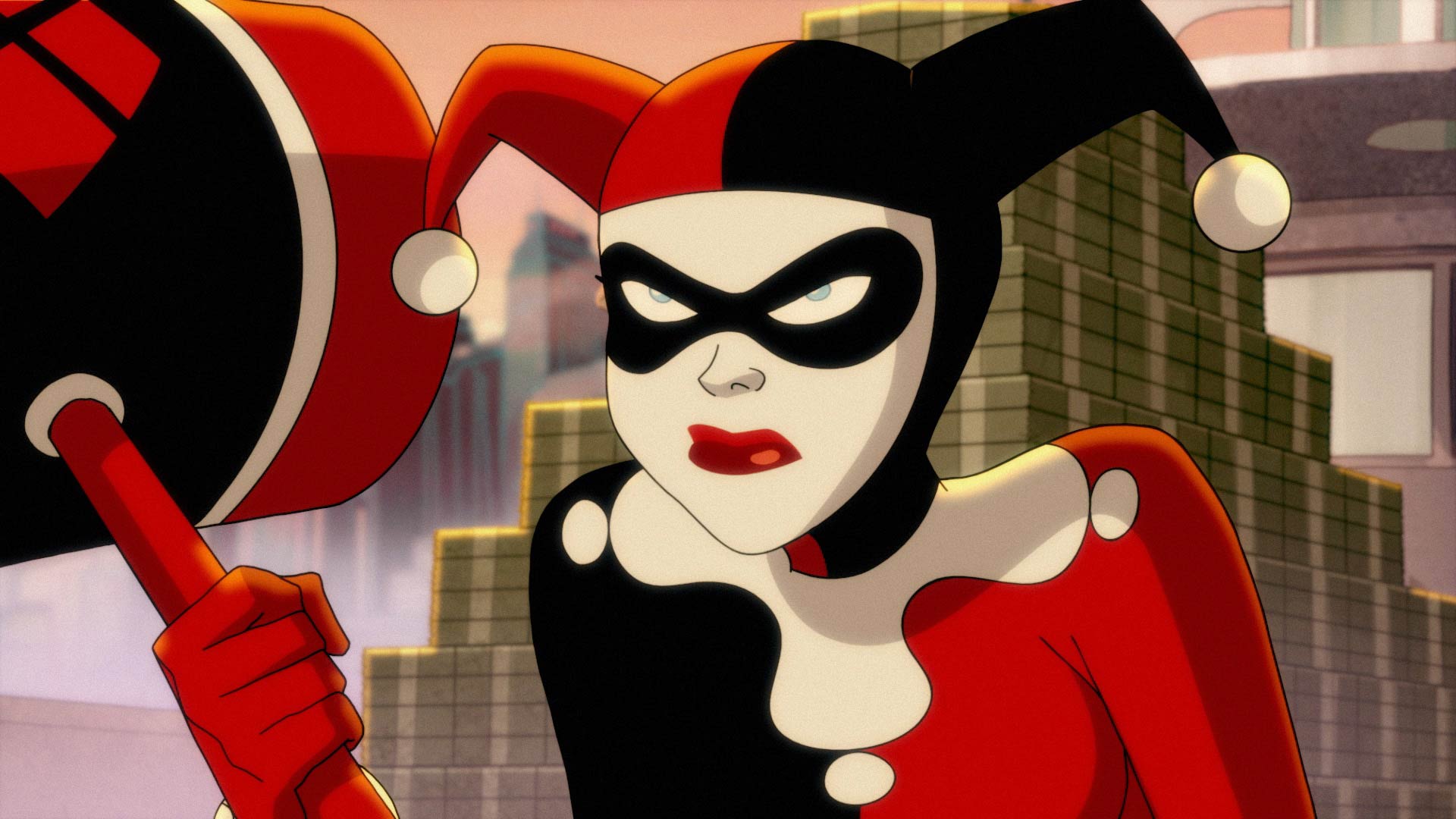 During the panel we were introduced to a couple new characters on the show we previously didn't know about. Catwoman will be on the show and is voiced by Sanaa Lathan (she was not on the panel for the TCA event). Also expect to see Robin on the show voiced by Jacob Tremblay. Executive Producer Justin Halperin was there however and offered this statement about the new adult animated show:
I think she can get away with a hell of a lot in the show. The nice thing is that most of the time she's going up against other villains who are worse than her, so I think we can root for her in that way. She is a killer, but generally, I think we've built it so that those dying at her hands all deserve it, clearly. She fights Robin (voiced by Jacob Tremblay) in the show, which is pretty amazing. He plays Damian Wayne/Robin, and she's never going to kill Robin. She has her own moral compass.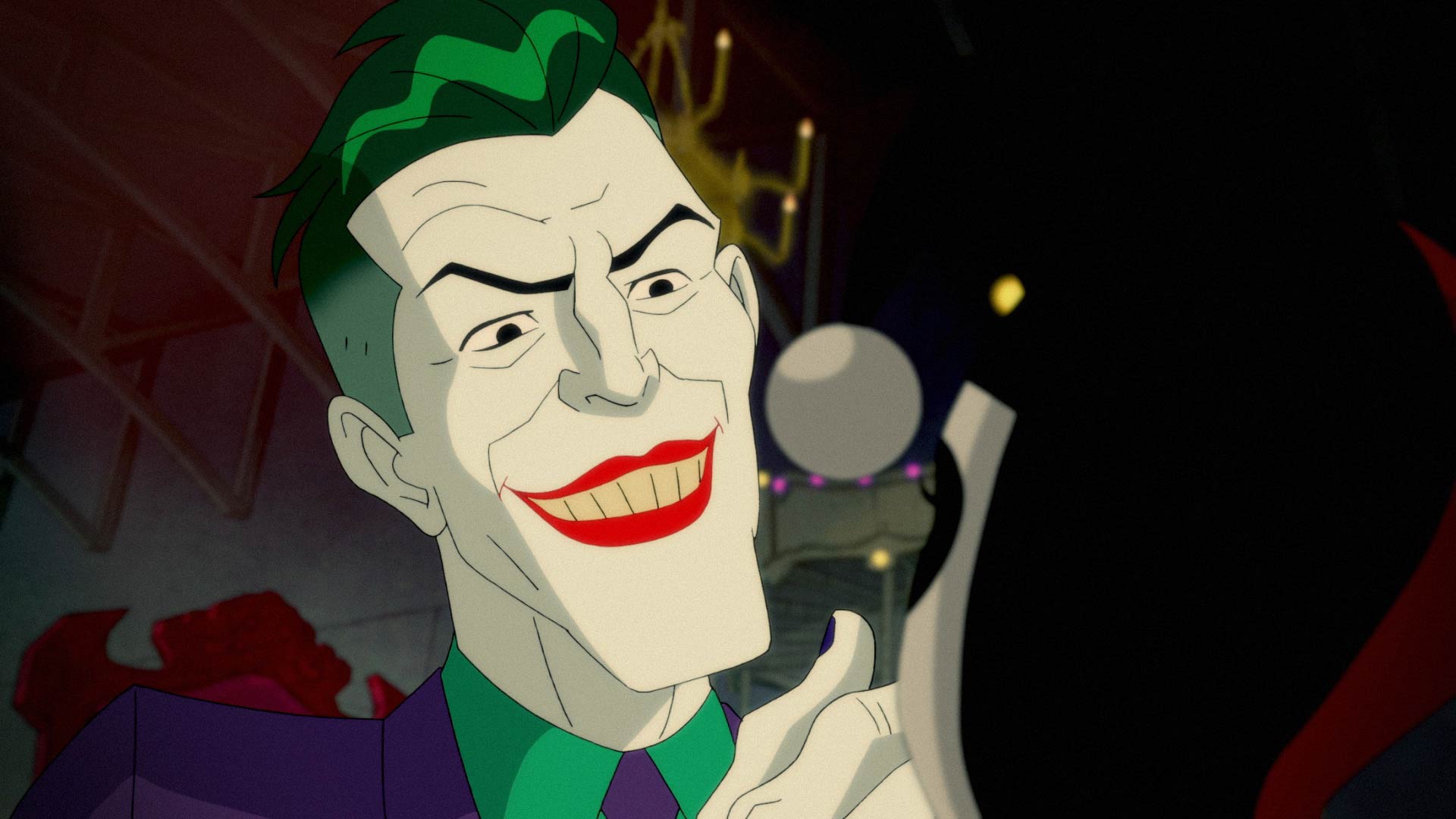 Of course the only character on the show that can rival Harley Quinn's popularity is also the only character that is looking to put a stop to her newly inspired crime run on Gotham. Batman shows up in a big way. Office Space and The Drew Carey Show actor Diedrich Bader reprises his role as the caped-crusader and had this to say:
For me, I'd played Batman before on Batman: Brave and the Bold. So I understand the responsibility of the Batman character. I think [this show does], too. Of any of the characters, that's the one that's hardest to mess with because it's so beloved. I didn't really know until I went to Comic-Con with Batman: Brave and the Bold many years ago the depth of love and respect and, frankly, defensiveness. They really care about the character so much that it's first, 'Do no harm.' We're allowed to improvise a lot, but Batman has to be very specific about Batman and can't leave the paradigm of what people expect from Batman.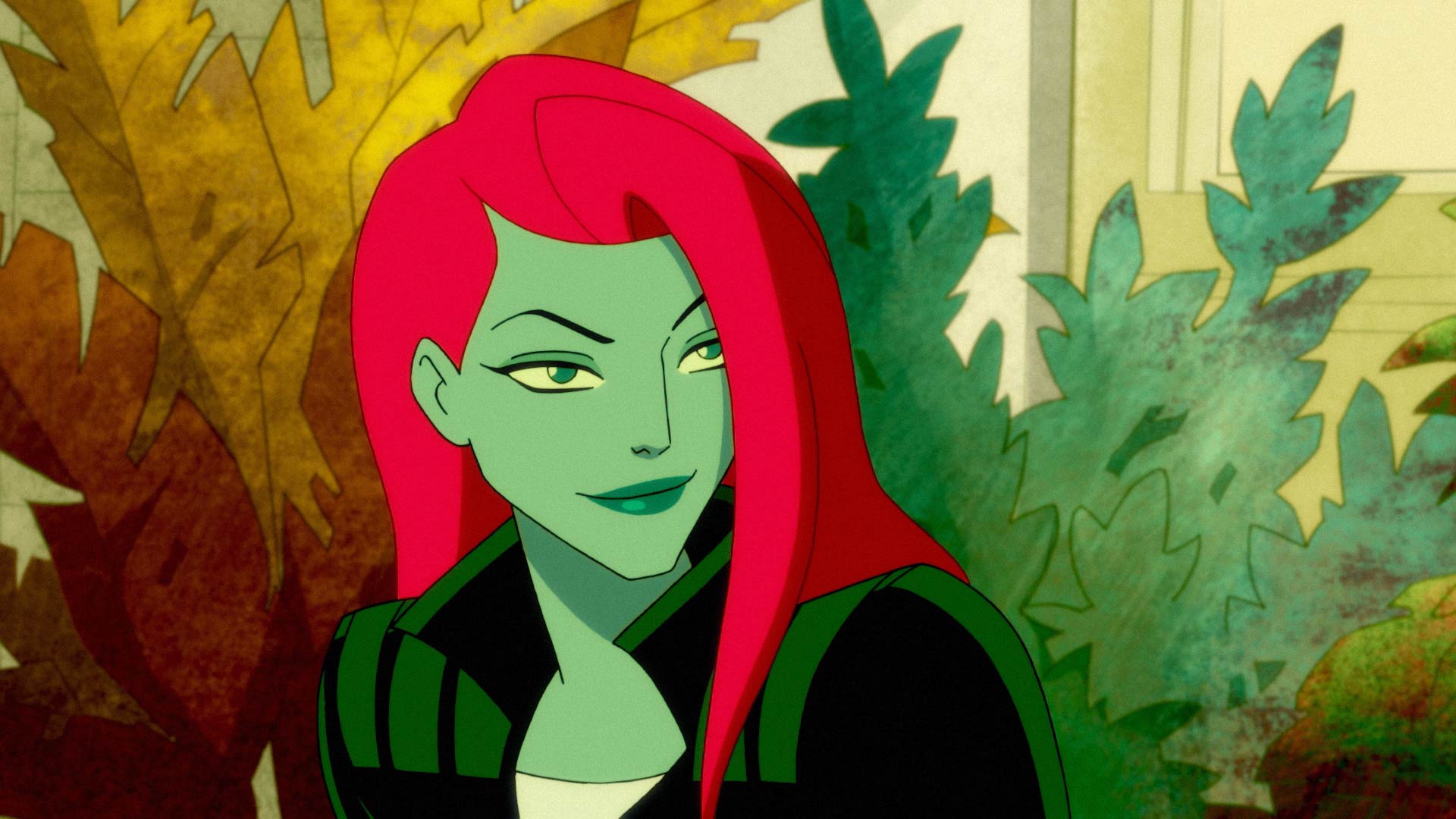 Having seen the first episode and being a fan ourselves this show is certainly something special! For anyone that wants to see a hilarious and refreshing take on some of your favorite DC Comics' characters, then this is the show for you! Be sure to read the full article at Blackgirlnerds.com. Also, let us know your thoughts in the comments below and in our forum!
7/20/2019 8:58 pm

Harley Quinn debuted to a select audience at San Diego Comic Con 2019 on Saturday night July 20th. The pilot was preceded by a special message from Kaley Cuoco herself who couldn't be more excited to show off the new show. Simply put, this show is unlike anything you've ever seen. Don't expect anything like Young Justice (the other original animated show on DC Universe). This show is easily TVMA! The premise of the show is about Harley Quinn separating herself from the Joker and going out to make a name for herself in the criminal world. Her ultimate goal is to catch the eye of the Legion of Doom. Can she do it?
Much of the pilot explores the motivation for the series, why does Harley want to make a name for herself. The manner in which we discover this is through hilarious, gratuitous violence, a dash of gore and a double helping of adult language! THIS IS NOT A SHOW FOR CHILDREN! There is also a lot of heart in the show as well. Harley Quinn [the show] trades in romantic love for the love of a friend [at least in what we've seen so far]. For DC Comic fans, this show is a perfect appetite cleanser. You'll get to see A LOT of your favorite characters but in a way you've never seen them before! Our recommendation, this is for everyone who loves DC and wants a good laugh!
---
This section recounts much of what the Executive Producers said at the panel Saturday night. Much more here can be considered spoiler than before so be careful reading ahead.
After the pilot, a few executive producers stepped out on stage and gave us some inside info. Interestingly enough, this show has been in the works for three years! It was greenlit when Geoff Johns was still at DC Comcs. The executive producers were given only one directive, make it funny. The entire library of DC Comics characters is at their disposal! Don't believe us? Wait until you see Kiteman in the preview video! Other characters hinted at include, Black Manta, Aquaman, Lex Luthor and a heavy focus on Bane. There is a side quest in this show to discover what the day-to-day life of Bane is like. Does he have a coffee barista that he hates everyday?
Harley won't be alone either. She is working to get her own criminal organization put together. Fans can expect to see her have her whole team by around episode 4. Additionally, Dean Lorey, who was a producer on Arrested Development, is working on this show. He has been able to push for multiple recording sessions when the cast is able. This means that the voice actors can actually play off each other rather than deliver lines without the opposite side.
Creatively the show is not like Batman the Animated Series. The show is bright and reflects Harley's view of Gotham. It isn't dark and gloom but rather her playground! Harley has a best friend too, Poison Ivy. Their relationship is described as Harley is Ferris Bueller and Ivy is the logic focused Cameron Frye. As of this post, half of the show has already been animated and recorded!
Finally we have to talk about the F-Bomb. Because this is an adult-oriented show, we aren't going to shy away from it. In the pilot there were 21 "Fuck"s said. That comes out to one a minute in a 30 minute show [with commercials]. They are shocking at first due to the cartoon content but they are used pretty hilariously. The Executive Producers have promised to keep it to 8 an episode going forward! Now lets get to the exclusive comic con preview! Watch it below:
Let us know what you think of our review and the preview in the comments below and in our forum!
7/15/2019 11:59 am

Here we go Harley Quinn fans! Straight from the head cheese at DC Comics! Harley's going to have a collector's bag among all the others at San Diego Comic Con this year! Jim Lee, the Chief Creative Officer from DC Comics, announced via twitter today that the bag will be handed out at the WB/DC Mega booth this year! This skews a little different than usual, the swag bags you get for being there don't seem to include the Harley bag, to get this one, you'll have to head to the DC/WB booth at 4545! You can check out the bag for yourself below: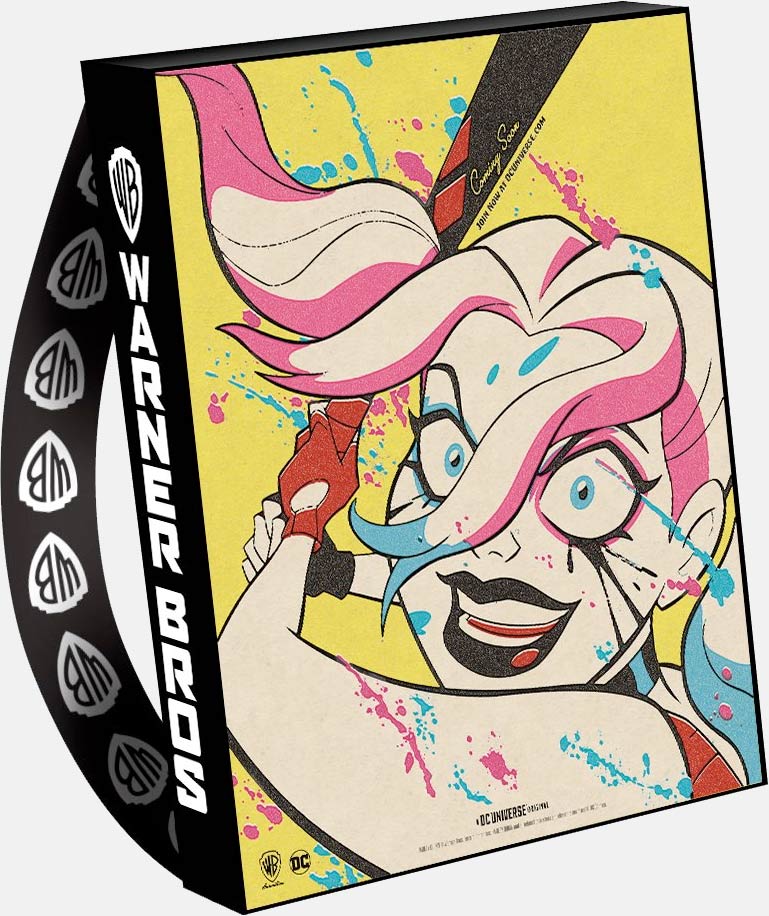 Let us know what you think of the bag in the comments below and in the forum!
7/12/2019 2:01 pm

San Diego Comic Con goers will get a special treat on top of all the other great things going on this year! It was announceed earlier that Warner Brothers (parent company to DC Comics) and DC Comics are combining their booths this year into a massive 6,500 square foot mega-booth! The mega-booth is located at #4545 and is essentially near artist alley. Special "DC Universe Members Only" activities will be held at the booth but most importantly, Harley Quinn fans will have an all access area for a special sneak peek. DC Universe describes the area as:
The booth will feature an Arkham Asylum Activation exploring the world of DC Universe's upcoming original animated series 'Harley Quinn' (featuring the voice of Kaley Cuoco in the title role). Prepare yourself for an immersive, interactive glimpse of the eagerly awaited show.
We will of course bring you our own impressiosn of the booth when we get there! Let us know you thoughts in the comments below and in the forum!